I am watching ICS video enough and I am going to install Android ICS on my X8, and I succeed, so I write down the process for you guys who wants to try something fresh. As the fix for running ICS on X8 with stock kernel is out, things is more simple than previous, I did not unlock the bootloader, so I am using the stock kernel, and everything works fine during installation, I am meaning the installation, not the system function.

You need this Source:
1. Ice Cream Sandwich V007 II download. http://forum.xda-developers.com/showpost.php?p=19719855&postcount=1
2. Fix for stock kernel. http://forum.xda-developers.com/showpost.php?p=20044282&postcount=1216
3. Working xRecovery files form this thread: http://forum.xda-developers.com/showthread.php?t=998063, we need the file "xRecovery.tar" to back to Gingerbread.
3. A X8 / W8 running custom roms (stock kernel).
4. Experience, Courage, Patience :).
Seriously, I don't suggest common users try this rom at present, it is so unstable that you may can't return to current system. So just do what you known for sure, I am not responsible for any hardware brick or damage.
Installation:
1. Download the Fix for stock kernel, extract the files, put them into the folder: "/system/bin" of the "ics_XperiaX8_alpha7.zip".
2. Extract the "xRecovery.tar" file form the "Xrecovery_with_offline_charging.zip", put it into the folder: "/system/bin" of the "ics_XperiaX8_alpha7.zip".
3. Copy the modified "ics_XperiaX8_alpha7.zip" to SD card.
4. Reboot into xRecovery, backup the system. (CWM will not work after update)
5. Reboot into CWM Recovery, full wipe, install zip from SD card, select "ics_XperiaX8_alpha7.zip", wait for process complete.
6. Reboot system, enjoy ICS.
I suggest turn off the GSM by enable air plane mode, it can prevent the system restart automatically.
Impression:
A little laggy but it is so amazing, just like getting a new cell phone, I appreciate the design of Android Ice Cream Sandwich, creatively and awesome.
Photos(native screen shot function is now working(SD card issue), so I have to take pictures):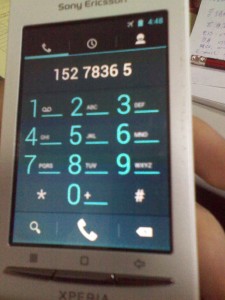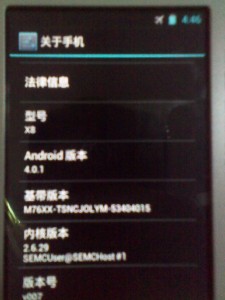 Video:

How to go back to Gingerbread:
Reboot the phone and press the back key to enter xRecovery mode (CWM is not working), restore the system backup.