After 10 days of the latest Google Event, finally the G-Cam app float upon APK mirror site, for Nexus 5X/6P users there are no new features, looks like the classical Nexus phone series have been abandoned, but fortunately, Camera NX mod can still bring parts of new features, which is Pixel 2 exclusive, let's talk about the new things.
Google Camera 5.1 was built for Android 8.1, as its 'platformBuildVersionCode' is 27 and the 'platformBuildVersion' is 8.1.0, what's new? first, the apps library files got a huge update, there are three new lib files 'libfacebeautification', 'libgyrostabilization-jni' and 'liblensoffsetcalculation-jni', all for the new 'PIXEL_2017_EXPERIENCE', that should be 'face retouch', 'advanced video stabilization' and 'portrait mode', besides, Google Camera 5.1 gets a new feature, the motion photos, the camera will record a 3 seconds video during shooting photos automatically, just like the live photo on iPhone. sadly, Pixel 2016 phones can only perform the 'face retouch'.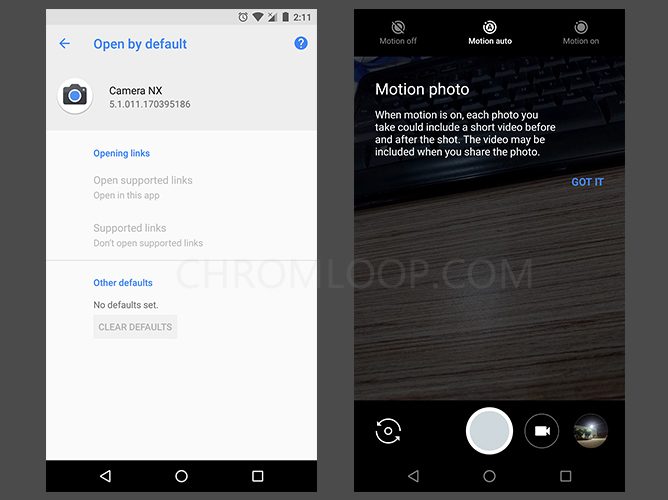 Camera viewer UI was changed in version 5.1, buttons in the viewer now have a black bar as background, made them much easy to choose, also a lock button for AE lock, adjust and lock the AE in some low light environment will not a hard job(all devices). some other hidden changes, flashlight fire notice (for Pixel phones include 2016 device).
You should notice the HDR+ settings is gone, actually, HDR+ will always on with Google Camera 5.1, but you can bring the HDR+ settings back by manually active in setting menu. Also, photo viewer now combine with Google photos, as the motion photo can only work in Google photos, and yes, all these features only present on Pixel 2 and Pixel 2 XL, just like the Portrait Mode, which is called 'Gouda' in the development code, it a kind of cheese from Dutch. Pixel 2 devices have a Gouda processor, that is why Portrait Mode can NOT be port to other phones.
About the new Camera NX, all the original features will be present, and this can give you some new features:
1. Motion photos (ZSL-enhanced version on Android O),
2. Face retouch (all version),
3. Google photos combine(ZSL-enhanced version on Android O),
4. Advanced options: HDR+ control, diet smart-burst(ZSL-enhanced version on Android O), dirty lens notice, experiment DNG(RAW) photo (all version).
furthermore, flashlight fire notice, broken send feedback menu.
For Pixel 2016 phone users, Camera NX should work too, but the Scene Change function highly will be broken, need reports.
Update 11/06
This is a bug fix version, only enhanced version.
1. Fix crash issue for Pixel 2016 devices.
2. Fix provider author issue.
A system framework patch is needed to fix the broken motion picture issue. This should fix the G photos index problem.
Update 10/19
1. Based on the last Google Camera 5.1.014, add Pixel 2016 phones support (need test).
2. Video 60FPS mode with EIS FC bug Fixed.
3. Motion photos for Pixel 2016 phones.
4. Micro video (Motion photos) EIS use gyro sensor enabled for Pixel (it was only activated on Pixel XL), need feedback.
5. Update icon support adapted icon and regular icon.
6. Disable Motion photos and G-photo integration for Android 7.1.
Now there is a new ZSL-enhanced version for Motion photos, G-photos combine, diet smart-burst on Android 8.x.
NOZSL and ZSL version will perform the old way while added new face retouching.
Camera NX is 60FPS-ready on Nexus 5X & Nexus 6P, you need this mod to unlock the system limitation, works on Android 7.0+: https://forum.xda-developers.com/showpost.php?p=70748865&postcount=161
Download link:
Camera NX V7.2 ZSL enhanced | AFH mirror
Camera NX V7.1 ZSL | AFH mirror