Google just officially release Android N 7.1.1 to modern Pixel phons and Nexus phones, all  eligible devices will receive OTA update in future several weeks. I download the factory images and install it vie Flashfire without wiping data, all things working good. As it is just one and a half weeks after Android 7.1.1 DP2 release, so there are not much changes, Nexus users still did not get the Round Icon layout, Blue color theme and fingerprint swipe down controls features.
I began to update the Pixel mod after finish install the new system. Turns out something is change in the Pixel's SystemUI, the OPA code which is controlling the navigation bar home button animation was updated, but the change does not effect porting the code to Nexus's system. I will update the Guide for enable home button animation later.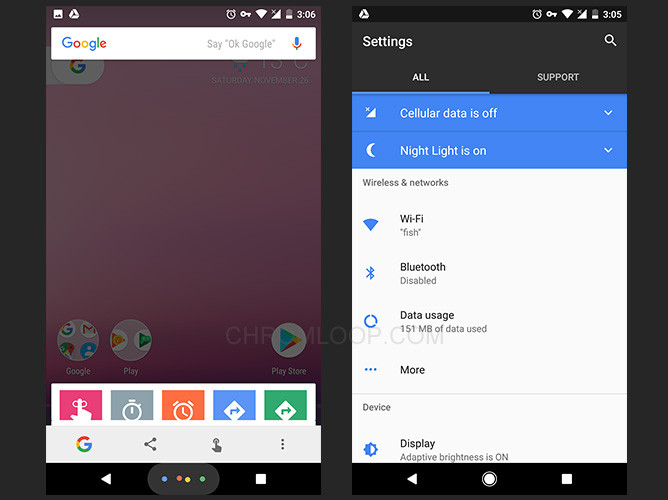 This Pixel mod will change the default System UI of AOSP to Pixel's style, add Pixel Launcher, Wallpaper (not live wallpaper), Round Icons, Blue color theme, Navigation bar with solid buttons and home button animation, System UI tuner, Night light mode. It also hide the mic icon on home screen when using Pixel Launcher without Google Assistant enabled.
PS. Not include Boot  animation and Settings icon ( as I don't want to twice the mod file size.).
Bug fix: Fix the switch icon edge cut off issue, thanks to HR notice.
As always, there is a flash-able package and a Back to Stock package for TWRP recovery, DO NOT Use This for any other systems! I have tested the Nexus 5X version by myself, Nexus 6P version should work but need confirm. Nexus 6P version will up in 1-2 hours.
Download link: 
Update Pixel Mod for Nexus5X with Android 7.1.2, please head to this post.
Nexus 5X:
Pixel-Mod-7.1.1-N5X-nmf26f-Chromloop.zip
BacktoStock-7.1.1-N5X-nmf26f-Chromloop.zip
Nexus 6P:
Pixel-Mod-7.1.1-N6P-nmf26f-Chromloop.zip
BacktoStock-7.1.1-N6P-nmf26f-Chromloop.zip
Update 2017/01/04: Pixel Mod still works with N4F26I/J (Jan. Security Update), as it did not contain any files which needs to update.
However, the Settings mod below did NOT compatible with N4F26I/J.
Update 12/08 add Settings apk single mod, It will only change/revert the Settings icon:
Nexus 5X:
Pixel-Mod-Settings-7.1.1-N5X-nmf26f-chromloop.com.zip
BacktoStock-Settings-7.1.1-N5X-nmf26f-chromloop.com.zip
Nexus 6P: (Need Test)
Pixel-Mod-Settings-7.1.1-N6P-nmf26f-chromloop.com.zip
BacktoStock-Settings-7.1.1-N6P-nmf26f-chromloop.com.zip