The latest Android N 7.1.1 was released today, Google said it will take several weeks for rolling out to all supported devices with OTA update, if you are using one of those device, Nexus6, Nexus 9, Nexus 5X, Nexus 6P, Pixel C and wanted to get the final version immediately, here is the method for how to install Android 7.1.1 factory images on your phone.
PS. We need a unlocked boot loader and rooted device to proceed, after installation we can keep the custom recovery and root access. One more things is the phone's battery must be above 60%. This method will work for stock Rom and custom Rom.
1. download the Factory images for your devices from this page: https://developers.google.com/android/images, Here we use the Nexus 5X as the example. So we download the "bullhead-nmf26f-factory-7ad6b52c.zip", I suggest for downloading it on PC.
2. connect your phone to PC and transfer the factory image to your phone's storage. Keep in mind you have enough free space for the update process, I suggest you free up more than 5GB space before continue.
3. Install FlashFire from Play Store. Open Flashfire and it will aks you root access, accept the request, then Tap the Plus button on right-bottom, choose Flash firmware, then select the factory image file you just download, it will scan the file for one or two minutes and give you a flash-able list.
If you are coming from Android 7.0 or older Android version, I suggest you to select "Boot, System, Vendor, Data, Cache, Modem Firmware" options, it is because it is a huge update for your current system, if you keep the user data, something might effect the stability after updating to new one. We have to begin from zero.
If you are coming from Android 7.1.1 Developer Preview like me, you can choose avoid flash Data option, just select "Boot, System, Vendor, Cache, Modem Firmware", below is a scree shot of these options.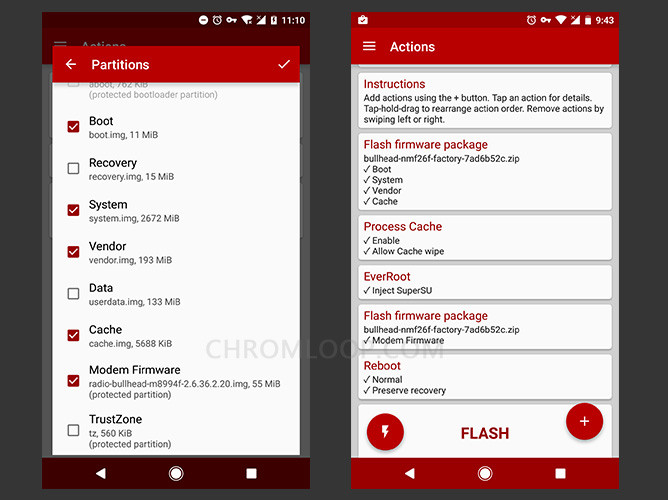 4. Tap ok on top-right corner, Flashfire will ask you to split the process into two separate parts , tap Yes, then you can see the task lists, double check the options if you accident select the "Data" option. Please remember if you select the Data option, you will lose user data after installation.
Ok, time to tap the Red Flash icon on the bottom side. Flashfire will ask you to confirm again, tap yes, the phone screen will go dark, then installation will proceed, you can check the log shows on screen, if something went wrong, it will notice you and went back to original system.
If everything goes fine, your phone will reboot twice as SuperSu needs modify the system to enable root access, Don't be panic, and welcome to Android 7.1.1 world. You can check out my Pixel Mod for Nexus 5X and Nexus 6P if you like Pixel elements.