SiMi Clock is a free nice clock Android widget, it is simple, beautiful, customizable widget, you can change the size, color and transparency of the font and background. SiMi Clock have serval widget size e.g. 1*2, 1*3, 1*4. SiMi Clock can add the weather and battery information to the clock right side, you can also design the weather and the battery style.
Weather: you can input your location or just use the location detection to get the weather information, you can set up the update frequency of the weather information, also you can refresh it in the widget menu.
battery: It appear as an circle and the battery percent in the circel center, it will decrease the transparency while the battery is getting lower.
If you are looking for a simple, battery-saved and light Android widget, SiMi Clock is the one you desired.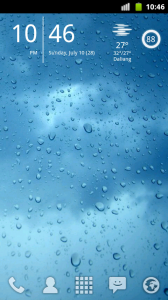 Download link: https://market.android.com/details?id=com.th.android.widget.gTabsimiClock