Now we test the start-up speed of Xiaomi phone, the following video showing that from the power button be pressed until the operating system enter the screen lock state, it is about 40 seconds, while unlock the phone and widgets finished loading, only took 45 seconds, it is proved that MIUI on the Xiaomi phone start-up speed is relatively fast.
As the usual evaluation of the new phones, we installed the Quadrant to test the performance of Xiaomi phone, because the actual benchmark score could more easily to compare the performance of different mobile phones. The first test score is 3090, that is some low score compare to the release conference score, but it is still more than 3,000 points, reach the current dual-core mobile performance levels. MIUI performance optimization in the Xiaomi phone has done a good job, even if a lot of dynamic effects on home, the operation remains smooth.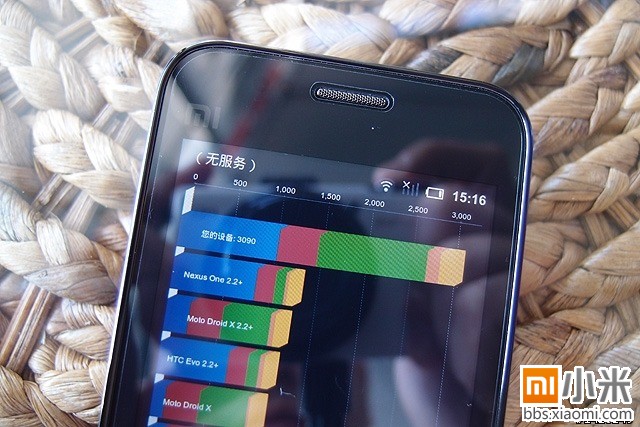 The score of each project can see the picture below.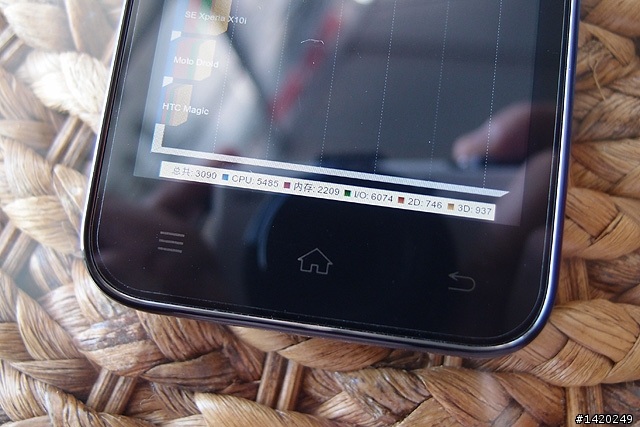 We all know that the CPU frequency big impact on the test results on Quadrant, before testing the CPU speed is dynamically adjusted, is lower than the 1.5G, if the CPU frequency is fixed at 1.5G and then test again, the score obtained is 3412, the score relatively close to the release conference score.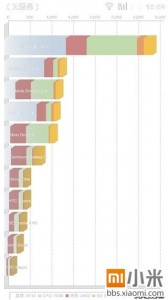 In other 3D animation tests, Xiaomi phone has been maintained at 60FPS results.
Xiaomi phone touch screen hardware support for 10-point touch, but it is not so comfortable operat with ten fingers in the 4 inch screen, so it is limited to 5-point touch by software, using two multi-touch screen test softwares to test, the touch-screen support 5-point touch.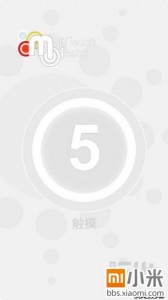 We have run GameLoft Asphalt 5, the famous racing game to test the Xiaomi phone game performance, because the screen resolution is 854 * 480, so there is a white space on the edge, but it does not affect operation.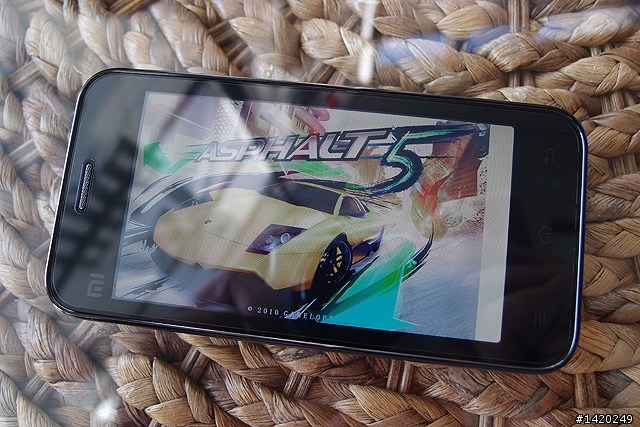 Xiaomi phone running the Asphalt 5

Although the screen resolution is not large, we still tested 1080p video playback capability on the Xiaomi phone , the results, use a soft solution model with Rockplayer watch 1080p video paragraphs, it can be playback smoothly, and Xiaomi phone sound volume is not small, you will have a good experience on watching movies .
Xiaomi phone equip a 1930 mAh battery, in this review, the battery level was 17% at the begging, the battery finally die after have all the tests above in 2 hours, include taking photos, wifi is on, the battery life is really good.