Guys, if you want to watch the Geminid Meteor Shower tonight but you don't know where is the Gemini, this Android application will help to identify every stars and constellations in the sky, it created by Google, the Google Sky Map.
Google Sky Map use GPS and Magnetometer to locate your location, when you open it and lift your phone to the sky, a visual Sky Map will show you the details of stars, constellations, messier Obiects, Planets, Meteor Showers in that area even Sun and Moon. You can setup the location manually by enter the latitude and longitude, without GPS support.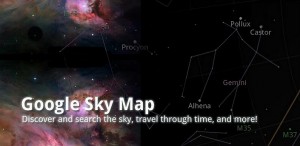 Advance features: the Time travel function, you can setup any date and any time you want to travel to, you can see I set the time to 10:43pm, to see where is the Geminid Meteor Shower location after 6 hours. Ah, it is 4:00pm in my location, afternoon.
Google Sky Map rocks. I will bring my digital camera to take some photos and videos tonight.
Google Sky Map Download page