If you want to make kids laugh, or you just want your children have fun with your Android phone, Talking Tom Cat is your first choice, Tom is so funny and cute when you talking to him, he will repeat your words with a special tone, the fact is that I can't stop laughing when I let Tom listen to the news broadcast, sometimes this cat is driving me crazy :). In this whole new Talking Tom Cat 2, Tom have left the alley, he move into a nice apartment, but his face still look like not comfortable, right, his new neighbour Ben, the dog, teases him constantly. :p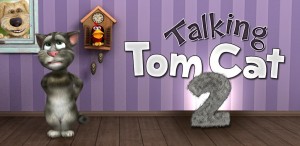 Same as the previous version, you can touch serval part of Tom's body, make him yelling or shaking his tail, what is new in the Talking Tom Cat 2?
1. you can press the fart button, watch Ben fart, Tom covered his nose in disgust. Then, Tom will repeat what you say, while his nose is closed.
2. press the bag button, Tom will blow up a paper bag, and bang, Tom is daylights scared.
3. press the ? button, Tom will show you what he hiding behind himself randomly.
4. you can record Tom's video and upload to the Youtube, Facebook, or send it by email.
Careful, this free version have many advertise, tell your children not press the "yes" button on the purchase menu. The game needs to download 3-28 MB to get the best graphics quality for your device, and there are some bugs with HTC Sensation and Samsung Infuse 4G, visit the official FAQ for details.