Gfan.com the famous Chinese Android website just release the new Fishing Joy™ v1.2 deluxe version for downloading, now Fishing Joy™ Android version also have the Double Down Mode, a super-exciting way to let you earn double gold coins in one time, just like the Apple iOS version.
More amazing features:
- Serval brand new interesting and beautiful scenes were added to the game, like the Hawaii undersea scene.
- A new species which haven't appeared is waiting for you to discover.
- Add new interesting achievements let users to win and show to your friends.
- Add manual capture and one key sharing, share with friends anytime, anywhere with the fishing fun.
- The graphics is more beautiful, more species, more exciting game play .
- Adjust the game level permission, with the higher level, the more interesting new game modes.
- Fix the FC bug on some types of Android device ( like Motorola MB860 ).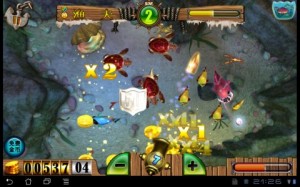 The game is more smooth then the last version 1.1, you may ask how to enter the Double Down Zone, well when you play the Fishing Joy after some jump up serval levels, the Double Down Zone could be selected automatic. The game data will not be lost when you upgrade the game from version 1.1, you don't have to play at the first level after update to version 1.2.
Recommend to run on the Android Tablet like Motorola Xoom to get the Impressive graphics.
New Fishing Joy™ v1.2 Download here: http://www.megaupload.com/?d=5QKJJDVA
Old version Fishing Joy™ HD v1.1 is available on the Android Market.
What is Fishing Joy™?
Read this Last post about this Android game, it can run on Android phones and Tablets. created by PunchBox.
Fishing Joy™ HD Android, Top 1 in China, Hong Kong, Singapore, and More! Free!