Just post some news about the situation of Ice Cream Sandwich for Xperia X8 development. Great DEVs has made some big improve of the rom, current version is v007 II, some said it is as fast as Gingerbread, just some lags, and unstable, you can receive calls but you can not make calls, 🙂 graphics and some small things fixed, still need huge work on audio, wireless parts, camera and GPU acceleration, but with more and more DEVs join the project, development is being more fast than before, and the next build v008 will be available on next weekend.
Today ThePCGuy post a photo and said he just made ICS running on the stock kernel of X8. here is the picture: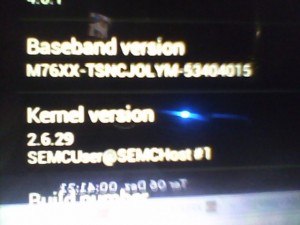 That is a great news for those X8 users who want to get ICS update without unlocking the bootloader, but he haven't post the method, but I believe that ICS can run with the stock kernel on X8, will keep my eyes on it.