MiniCM9 is a awesome rom which is based on CyanogenMod 9(CM9), developed by nobodyAtall, he also is the author of the ICS nAn kernel, Gingerbread nAn kernel and several MiniCM roms for Xperia X8 and other Xperia phones. He is the man who gives the most outstanding contribution in the development of custom roms for X8.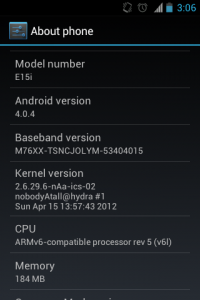 I Installed the MiniCM9 3.0.1 for X8 about 3 weeks ago, I unlocked my X8's bootloader, flashed the ICS nAn kernel, installed MiniCM9 using CWM recovery. everything goes well, it takes about 5 minutes during the first time boot up. compare with the previous version of MiniCM9 which was released at April 2, the new MiniCM9 3.0.1 is much more smooth and faster response, the transition of the screen color is back to natural, some useful functions were working fine except video recording. [update] now I have updated it to MiniCM9 3.0.2, bug fixed and performance improved.
I don't use the default launcher, it eats more than 14MB memory, it is terrible on an 256MB device, I choose launcher pro, which takes about 7MB memory, I don't want to wait for 5 seconds when I back to the home screen. 🙂 Android ICS needs more resources to run, fortunately X8's screen resolution is 480*320, it still has enough memory to handle the graphic hardware acceleration. I have to say that the new graphic hardware acceleration feature give us a very smooth feeling and better quality when we scroll the screen. Android ICS can make your phone or tablet full of the sense of science and technology, it is ture.
If you asked the comparison of CM7(Android 2.3 gingerbread) and CM9(Android 4.0 ICS) on Xperia X8, it is not easy to say which one is better, if you ignore the problem of limited memory and you prefer the new features of ICS, CM9 suits you. if you prefer high performance and no lagging operation, CM7 is your wise choice. I don't deny the advantages of CM9, but occasionally get lagging, for example, dial panel, settings, sometimes I open one of them, it may stuck for 2-5 seconds, and this won't occur in CM7.
Another thing that everybody concerned about is the battery usage. here is my recently battery history details.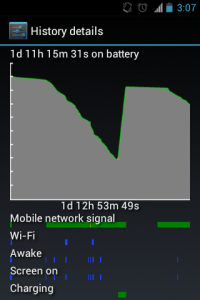 As battery draining bug was fixed in Mini CM9 3.0.1, now it takes about 20% more battery.
Summary of the improvements in Mini CM9 for X8
1. entirely new user interface, new transition animations, the sense of science and technology has increased significantly.
2. when the phone is standby, light up the screen, you can pull down the notification bar without unlocking the phone, direct control the shortcut buttons or check out the messages.
3. In the lock screen, time doesn't show up in status bar until you unlock the phone, it can save the space of the notification bar.
4. To tack screenshots, press the power button and the Volume Down key at the same time by about one second, this operation also has an animation.
5. Animated gradient rotating the screen.
6. This is the the CM9 improvement, CM settings have been decentralized to the related menu items, such as "automatic backlight" feature appeared in the "display".
7. Automatic backlight finally repaired in MiniCM9 3.0.2
8. the New CM cartoon 🙂
9. Power consumption increased when the phone get signal, but battery usage is still very small if you open the flight mode.
10. Wifi can be individually setup for each network, such as a static IP, this is praise, and if you setup a static IP, the Wifi connection speeds will be much faster.
11. You can set it to send a SMS after you refuse to answer a phone call.
13. Even if you turn off the accounts sync, background data is still on. But if your android market set to only update with WIFI network, it will not consume too much traffic.
14. You will have a little trouble when setting up the wallpapers, but now it can tell you both portrait and landscape screen viewing area.
15. More bright LED indicates light, also you can set up the LED color for different apps.
if you want to install MiniCM9, then you have to unlock the X8's bootloader, but it is not 100% safe and you will probably brick your phone, I heard about that Xperia X8 with the serial number newer than 11W29 has a big risk of bricking the hardware-you can unlock bootloader but your phone will brick after reboot. so look before you leap, MiniCM7 is still a good rom.