Well Android 4.3 was announced officially by Google on July 24th, and we were told that the over the air(OTA) update is rolling out to Nexus 7, Nexus 4 and Galaxy Nexus on July 25th, it actually happen and many Nexus users got the OTA notification today, but somehow you didn't, you may be upset, and here is a old and useful method which can let you get Android 4.3 JellyBean OTA update notification pushing to your Nexus 4 or Galaxy Nexus as soon as possible.
OK, now grab your Nexus phone, make suer your phone running stock Android 4.2.2 system, and you have not modify the original recovery.
1. Connect your phone with Internet through WiFi or 3G network.
2. Open phone dialer, enter this number: *#*#2432546#*#* , after a few seconds, a notification "checkin succeed" will show up.
3. Go to system Settings -> Apps, find the "Google Services Framework" application in the "All" tab, first, tap on the "Force Stop" button, then tap on the "Clear Cache" and tap on the "Clear Data" button.
4. Now Go to Settings -> About Phone and select "check now" in the "System Update" option.
Your phone will be force to check for the Android 4.3 update, good luck to everybody, you probably need to do this method twice if it is not working for you at the first time.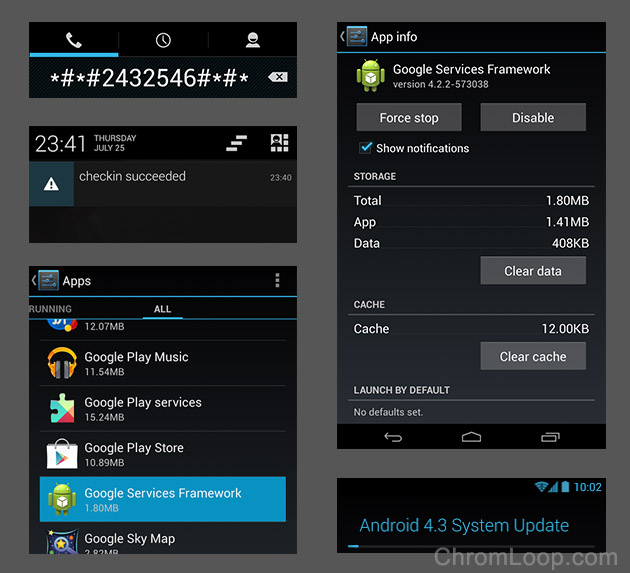 PS: charged the battery up to 60% before you apply the Android 4.3 update package. The Android 4.3 OTA update package is about 163MB, and Android 4.3 OTA update will not wipe your personal data, that is why we prefer OTA than flash the Android 4.3 factory image, which wipe all user data, except the storage.
Tell me if you succeed in getting Android 4.3 OTA update notification used this method.