Since the Android 4.3 Jelly Bean has been leaked, then question comes: What is New in Android 4.3 Jelly Bean? I started to find out what is new in it, I focused on the new Gallery application, as its file size is 16MB which is almost triple size of the Android 4.2 ones, something is hidden inside this Gallery app — it is the renovated photo editor of Google gallery. In the new Android 4.3, the Google gallery editor has more artistic effects and a improved UI. Here comes Google gallery photo editor review.
How to install the Android 4.3 gallery on your phone? You can get the new Google gallery app works on any Android 4.2 phones, just install the downloaded apk file, and I just installed it on my Nexus 4.
The new version number of Gallery is 1.1.40012, as the one in Android 4.2 is 1.1.40001. You can see the new app size is much bigger than the old Android 4.2 one, it is 20 MB vs 2.3MB (actually it's 16MB vs 6MB shows in file manager).
The album view of Android 4.3 Google gallery has slightly changes, the main change is the "Editor", Let's see what's the new feature it contained.
1. UI change:
-Google adds the "Undo" and "Redo" button on top of the title bar, they are in the setting menu in previous version.
-The "Save" button will be disabled when nothing is applied.
-Each effects and Adjustments has a "Cancel" and a "OK" button in bottom. I have to say this is a nice job.
-Better picture quality in the editing mode. you can see the difference in the enlarged image.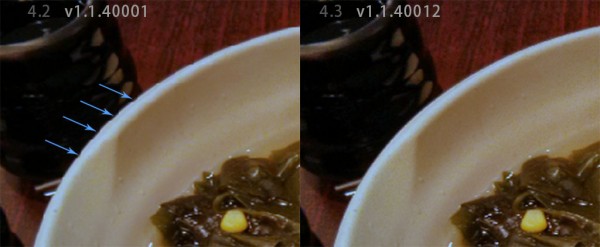 -Effect preview has a larger size.
-50% effect was automatic applied when you tap on one adjustment option.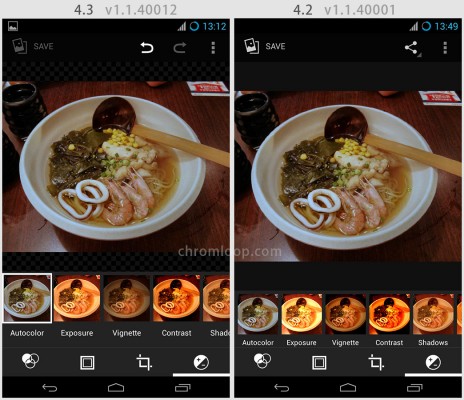 Gallery photo editor UI, Android 4.3(left) vs Android 4.2(right)
2. History bar have been redesigned, now you can press the "Show applied effects" in setting menu to show history effects, it will stick to the toolbar until you tap the Hide applied effects in the menu. another improvement is, you can undo any applied effect in the history bar by press on the label and slide it up or down, like the action remove a picture in Gallery.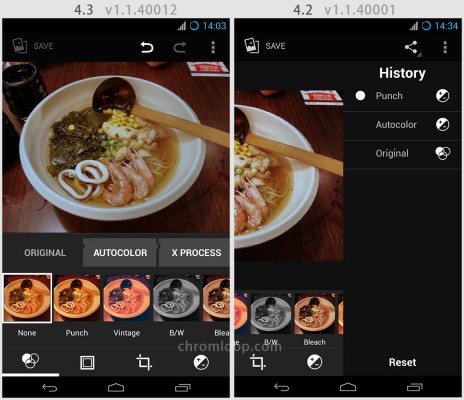 Gallery photo editor History bar, Android 4.3 (left) vs Android 4.2 (right)
3. New Artistic borders (picture frame), there are 11 kinds of borders in the previous version, now we got 16 kinds, most of them is redesigned.
4. New Adjustment options: Highlights. Highlights adjustment can let you adjust the highlights area brightness of the photos, make it less layering feels or stronger. Improved "Vignette" adjustment, now you can change the vignette effect position and range.
5. Another New Adjustment tools: Local. The local adjustment can let you adjust the brightness, saturation and contrast on the photos in any specific area, for example, in the picture below, I use three "local spot" to modify the brightness , saturation. Each spot has its own effect area, the area shows in red when you moving the local spot, after using for a while, I think the spot effect area is defined by similar color.
So that is all the things that is improved in the editor of Google gallery I have found out. If you are looking for a good photo/image editor, you should try this photo editor within Android 4.3 gallery app.
Something you should notice is, this new powerful Google gallery photo editor could make your phone draining a lot battery and the phone will be really hot if you use it for a long time. I enable the ECO mod on my Nexus 4 and it too hot after I do the tests above. Hopefully it will get better when Android 4.3 Jelly Bean is official released.