The Android 4.3 rom for Galaxy S4 was leaked yesterday, though we don't have a S4 to try it, we can still take out something interesting to play with, like the new Camera and Gallery application which has mentioned before, the new Camera and Gallery works on the Google Nexus 4, here comes the Android 4.3 camera & gallery review.
What is new in Android 4.3 Camera app, here is some new Android 4.3 Camera features I have found:
1. The old circle menu was replaced by the new arc menu bar, but it have some bug, if you tap on screen close enough to the edge, there is no enough space to show the arc menu bar, some buttons run out of the screen.
2. Taking photos by press the volume up/down key, wow! that is nice, no longer have to tap on the screen to do it.
3. Taking photos by countdown timer, it has 1, 2, 3, 4, 5, 10, 15, 20, 30, 60 seconds options. when countdown timer was active, it shows number of seconds on the center of the screen, beware of the countdown timer will take effects very time since you enable it, so you need to set it off when you don't need countdown timer, I think that is a little annoying.
4. After you take a photo, as a new transition animation, the new photo will resize to a thumbnail, and show on the right corner for about 2 seconds.
5. other improvement, like new style of buttons, and autofocus seems to be more faster than before, the button will flash after change an option.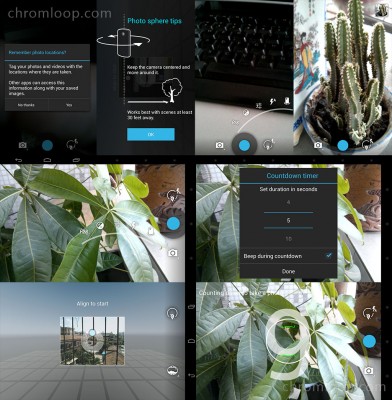 What is difference in Android 4.3 Google Gallery? compare to the camera, there are slighter changes:
1. New icons, for example, the photoeditor icon has became a pencil,
2. New UI of the "set picture as" functions. now it has two dotted box to tell you the actual area of the picture that you can see on the phonescreen.
3. More Details, just go to the Android 4.3 photo editor review.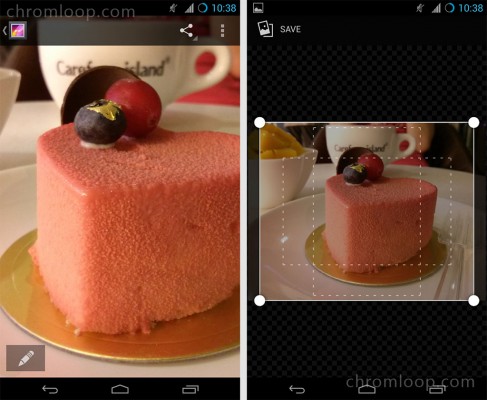 I think the photo editor may have more functions, as the GoogleGallery.apk file is triple size of the one in Android 4.2, which is 16 MB (the Andorid 4.2 GoogleGallery.apk is 6 MB). more code works should be there, then I have realize that there are more artist frame in the new photo editor.
Update: ok, just find out the way to get photo editor works, do not replace the apk file by file manager, just install it and all things done, you don't even need to root the phone. More information: Photo Editor Review.
Download Android 4.3 camera/gallery sources: @WinDroidGuy