CPU-Z is a famous CPU identification software for Windows and now it has arrived on Android, it a great apps as it simple and efficient. you can check out your Android device's hardware information, for example, the processor type, CPU architecture and every sensors status, it also provide system statistics such as available ram, storage status, system build number and kernel, etc.
CPU-Z v1.01 features:
1. SoC (System On Chip) name, architecture, revision, clock speed for each core, GPU vendor & renderer.
2. System information: device brand & model, screen resolution, RAM, storage.
3. Battery information: level, power source status, temperature, voltage ;
4. Sensors: accelerometer, magnetometer, orientation, proximity sensor, gyroscope, barometer, gravity. you should know about that all sensor is actived when you checking out the sensors information, battery may draining faster.
And you should notice, CPU-Z require your Android device is running Android 3.0 and up.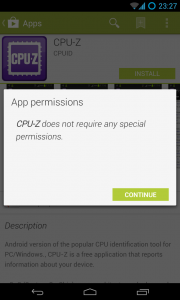 Specifically, CPU-Z does not require any special permissions, so it will not collect any private data, that is totally worth to give it five stars rate.