As the released day of Xiaomi MI-3 phone is more and more close, many rumors and pictures come up. Today people of the supply chain confirmed that the Xiaomi MI-3 will get a 5 inch screen, with 1080p 16:9 HD resolution, ultra narrow border design. The below photo shows the real front panel design of MI-3.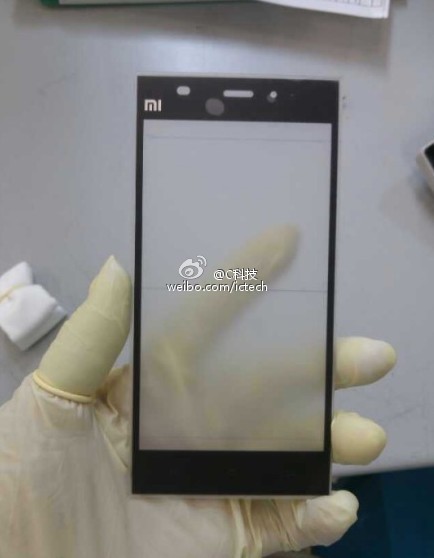 This morning a photo of Xiaomi MI-3 phone's front panel show up, we can see that Xiaomi MI-3 will have a really big screen and its border is quite narrow, you can compare to the screen size, looks like the border will be less than 1/8 inch!
The Xiaomi MI-3 display screen is manufactured by the Wintek company, it is about 1000 pieces per day currently, and it will begin the mass production by the end of July.
By convention, Xiaomi MI-3 will be released at August 16th. some data shows that Xiaomi MI-3 has the Tegra 4 Chip, I think this version is designed for TD-SCDMA network in China, Xiaomi MI-3 may have two versions using different CPU, one is Tegra 4, the other is Qualcomm Snapdragon 800.
Are you Looking forward to own a MI-3?