It happened so fast, Google release the Android 6.0 marshmallow factory images on October 5th, Dmitry Grinberg post a developer guide about building Android 6.0 Marshmallow image for Nexus 4, all hardware functions seems running without bugs, you will be so exciting if you are a Nexus 4 user, as Google said they will not update Nexus 4 to Marshmallow.
It is time to suit up your Nexus 4 with Android 6.0 Marshmallow, follow this tutorial step by step, FYI, this tutorial does not need to run fastboot command to flash images, you just need TWRP recovery installed.

First, Download zip package from Android File Host, there are 3 packages all you need.
1. The Backup files of Android 6.0 for Nexus 4, only contain the boot.img(kernel) and system. Link
2. Gapps, there are two packages we need to flash, a work-around method for sync contacts. Link for open gapps Link for benzo gapps
You need the TWRP 2.8.7.0 recovery to restore the system backup, if you current installed CWM recovery, download the TWPR Manager and install TWRP recovery, then reboot into TWRP and backup your data, include /boot, /system and /data, then reboot system.
Now extract the directory "2015-10-08-15-01-55_aosp_mako-userdebug_6.0_MRA58K_eng.dmitrygr" from the Marshmallow backup zip package, send this directory to your phone's storage, in this location: /sdcard/TWRP/Backup/"randomstrings"/ , you should see another directory already at there, name started with the date of today, that is your current system backup. In case you get something wrong, here is the screenshot.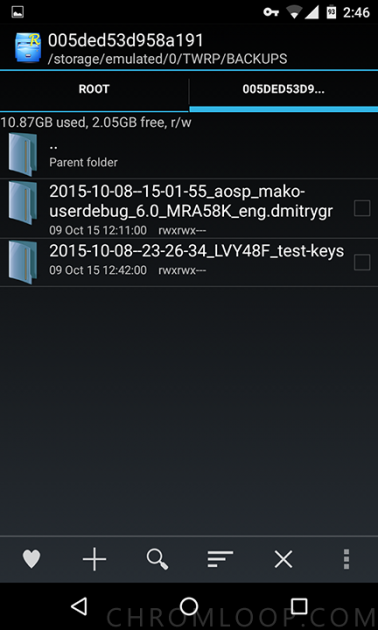 Now put the two gapps package in phone's storage, remember the directory you drop them. Let's reboot into TWRP recovery.
1. Wipe. do a factory reset.
2. Restore. select the "2015-10-08-15-01-55_aosp_mako-userdebug_6.0_MRA58K_eng.dmitrygr" backups.
3. Install. Select the Open gapps first, flash it, then flash the Benzo gapps.
Now reboot system. As this rom does not contain boot animation, you should see ANDROID logo on the screen. It will take up to 8-10 minutes to finish the first booting. Now the important part, you should see a lot of alert with "setup wizard stop working", Don't be panic, now try to get in the setting menu by pull down the notification bar then tap the settings icon, tap Apps, choose "show system" option on the top-right three-dots menu, scroll down the list you will find "Google Play services", choose and tap "Permission", enable all permission, then back to the apps list, find "Setup wizard", choose and enable two permissions, now setup wizard will show up if you tap the back button several times.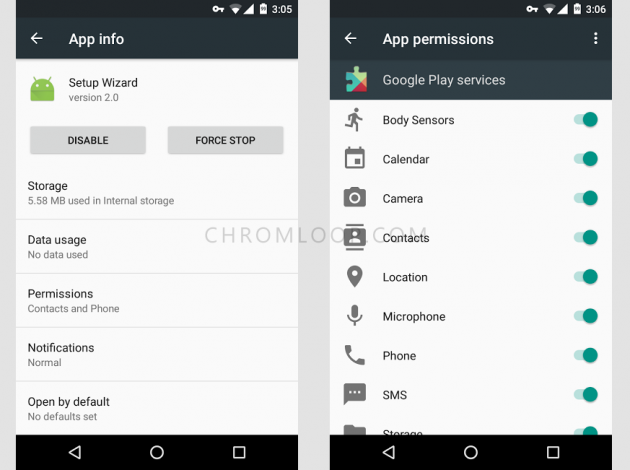 Finish the setup wizard, you should get all jobs done. Some said stuck at the connection checking, try tap on the four corners of the welcome screen, setup wizard should be bypassed.
Nexus 4 running Android 6.0 Marshmallow is much smooth then Android 5.1.1 Lollipop, Google redesign the animation between the operations, that makes the whole system feeling light weight and perfect.