Once I got my new Nexus 5, I started to find an custom ROM for daily-drive, it should be stable, AOSP based, stock Android UI view, with necessary custom settings like volume key wake up, quick settings tile changeable etc.
I have been using Simple AOSP for a long time, it is simple and good like its name, but the community of SAOSP on G+ was gradually declined, the rom haven't been update since February, I have to find new custom ROM, After taste the PureNexus (too many custom settings bring more bugs), Chroma (I don't like the built-in emoji), even the Stock, I meet the Krexus ROM and decided to stick with it, you may ask me, Why?

About Krexus ROM
Krexus ROM support all current Nexus devices, Nexus 7(2013) Nexus 4, Nexus 5, Nexus 6, Nexus 9, Nexus 5X and Nexus 6P. The Author of Krexus ROM, GeorgeGian want to make sure every cheery pick will not affect the stability, he prefer testing for days before every update rolls out. The latest version is Android 6.0.1 Marshmallow with April security patch. As they said, Krexus is focused on a perfect stock experience of Android.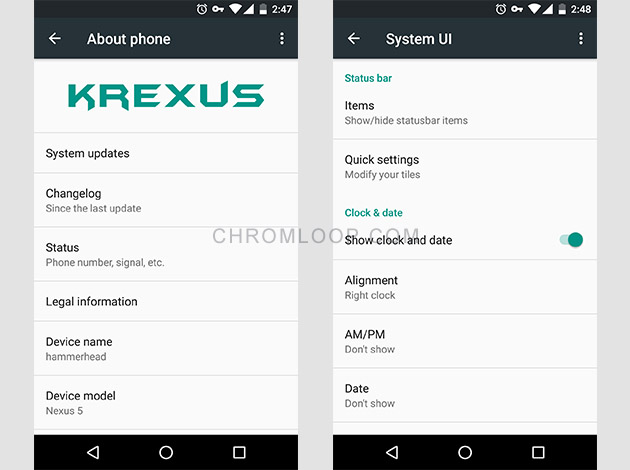 How to install Krexus ROM (Android 6.0.1)
The installation is simple, First you need to unlock bootloader( I have done that after got the phone in 30 minutes. ) gather some flashable zips.
1. Krexus ROM for Nexus 5 official download page: https://basketbuild.com/devs/KreAch3R/Krexus/hammerhead, we choose the latest one, 0408 build.
2. Download your favourite Gapps, I recommend Banks Gapps.
3. Download SuperSU 2.65 aka the stable version. http://forum.xda-developers.com/showthread.php?t=1538053.
Then use TWRP recovery to flash all the zip package in 1-2-3 order, Don't forget to wipe data & cache before install new ROM. btw, Doze was so much improved in the latest update, SoT(Screen on time) easily up to 4 hours.
For more information, please visit Krexus community on Google+.