August 22, Dolphin Browser HD 6.2 version was released, with a number of bugs were fixed, and a great new feature: the new web site security detection. The main function is to intercept the risk sites and protect the Android mobile phone users' information from being stolen when they are surf on the Internet.
Today, the mobile Internet have more and more risks, 5 percent of the phone has been infected with malicious software. For general users, the importance of mobile security larger than the computer, the computer can reinstall the system if the PC virus broken the system, if mobile phones be infected by malicious software, that will lead to a loss of telephone charges , important information be stolen. as one of the entrance, Internet browser security is essential.
Based on the importance of security for Internet access, Dolphin Browser team have launched the Anti-phishing Services for Android mobile phone users, Dolphin Browser HD provide a security door at the Internet access entrance, allow users access securely. The service uses advanced technology to intercept malicious Web site, they use Authority Malicious Web Site Library for testing web sites, totally block malicious Web site.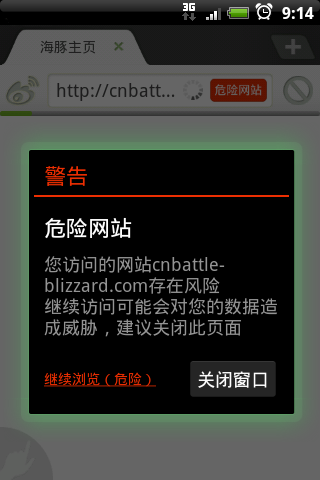 In the every layers of product testing, Dolphin Browser HD performance is excellence after adding a "malicious web site protection" technology, in the face of malicious or phishing Web site, Dolphin Browser HD can automatically block them, and immediately alert a warning to remind users to access high-risk behavior.
In the future, the Dolphin Browser HD will continue to enhance the browser security features to protect mobile client security, so users can rest assured that the Internet browsing is safe.
Download on the official Dolphin web site: http://cn.dolphin-browser.com/downloads/apk/CNDolphinBrowser.apk
Update the latest version of Dolphin Browser HD on Android market : https://market.android.com/details?id=mobi.mgeek.TunnyBrowser