There is a lot of image viewer applications on the Android market, but most of them are similar. Today I install the Floating Image, The new four star application, all kinds of pictures and photos on my phone are display as on the leaves floating in the stream, like crooked flowing slowly, like beside the gurgling stream in paradise, it is so cool. If it have feature of adding background music, it is absolutely a fabulous visual and auditory pleasure.
Floating Image can display photos randomly on your SD card, no need to specify the image directory for viewing, it is also support the gravity sensor, when you swing the phone, the view angle will change, you can touch the photo to zoom in to view.
Floating Image is an ultra-creative images browser, in addition to supporting mobile picture display mode, it also supports other image browsing mode (horizontal sliding, vertical sliding, fading, becoming black display, becoming white display), the flow display mode is supported by a long pause and resume operations functions.
Floating Image supports adjust the picture arbitrary flow speed and the background color, support add shadows to the moving pictures, so that a more realistic floating feeling of pictures.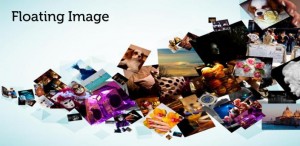 Floating Image supports getting photos from Picasa, Flickr, Facebook and mobile phone photo library, not only can manage the source of pictures(phone / SD card, download, network storage picture) easily, Floating Image can also support customize the new picture sources.
Also Floating Image can transform to live wallpaper. Images are flowing by on your screen in a steady stream. but live wallpaper will drain the battery, you can follow this suggestion to save some battery.
1. Disable shadows (shadows eat more cpu).
2. limit the framerate. (high frame rate cause heavy system usage)
3. Use local images only. (no network connect save battery)
4. Decrease the floating speed. (same as #2)