Halloween is coming at the end of this month, there is more and more Halloween apps uploaded every day in Android Market, today I would like to introduce a nice Halloween Android game: the Bubble Blast Halloween.
Bubble Blast Halloween is a puzzle game, developed by Magma Mobile, you may heard about the game named Bubble Blast, yes, Bubble Blast Halloween is a special version of Bubble Blast, in this game, the green and red bubbles turns into Halloween characters, and the game background music also changed to scary sounds, you may be scared at the first time you run the game.:), the game mode is the same as original, trigger a chain reaction of the Halloween characters in order to eliminate them, and 2 game modes are able to play, one is Puzzle mode which has 3500 levels, the other is Arcade mode, which can let you play freely. btw Bubble Blast Halloween support App2sd feature.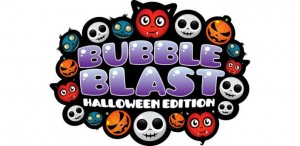 The team who develop this game said that once you start you can never stop, let's see what magic in the Bubble Blast Halloween they bring to us. You can download Bubble Blast Halloween in Android Market for Free! Click here to download Bubble Blast Halloween.