ASUS will release an ultimate Android tablet products at the end of this year, the Eee Pad Transformer Prime, this product has a 10-inch touch screen, equips the Tegra 3 CPU, and the large memory and dual cameras, in addition, the highlights of Asus Eee Pad Transformer Prime is the way of integrating a keyboard, when the user does not need to type, the keyboard can be removed.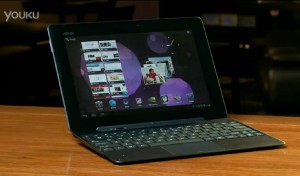 Asus Eee Pad Transformer Prime will be installed the Android 3.0 at the time when being release , but soon Google released a more attractive upgrade, the ice cream sandwich, and ASUS has announced Transformer Prime will be upgraded to the Ice Cream Sandwich, so how is the performance going when Android 4.0 Ice Cream Sandwich running on the Transformer Prime? this video to tell you.
So everything works great with ICS, especially the HD video and the 3D game, the graphics acceleration feature in Android 4.0 is the best partner when it works with the Tegra 3.