Google officially released Android 7.0 Nougat on August 22th, and many people received the OTA update notification in a few hours as they joined the Android Beta Program, some said if you are on Android 6.1 and if you join that program you will get OTA update in a minute, but that method need you have full stock Android firmware with Nexus 5X/Nexus 6P, Pixel C or Nexus 9, not rooted, stock recovery, and I know many of you have rooted or flashed custom roms with third party recovery, so here is the tourist for updating your Nexus 5X to Android 7.0 Nougat, which running with custom rom like PA, CM or PureNexus.
Warning: I have used this method and was successful installing Android Nougat on my Nexus 5X, which was rooted with SuperSU 2.76, running Krexus rom (AOSP), if you brick your device, that is all on you. DO MAKE A FULL BACKUP FIRST AND OVER 60% BATTERY.
Ok, let's start.
1. Download the Android 7.0 Nougat OTA package (Nexus 5X) from Google server, here is the link: https://android.googleapis.com/packages/ota/google_bullhead_bullhead/cd8d8f775bcdb6a76a496a3a664caba0b9ed47f9.zip
2. Download last 3.0.2-1 TWRP recovery image file, which fixed the freeze bug on Android Nougat.
3. Install the FlashFire from Play store.
4. Make backup with TWRP recovery. (optional but highly recommend)
5. Copy the OTA package and recovery img file to your Nexus 5X.
6. Open FlashFire, give it root access, tap the plus button on bottom right, choose "Wipe", leave the first three options selected, then select wipe cache partition, total four options, then tap the check button on top right.
7. Tap plus button again, choose "Flash Zip or OTA", select the OTA package "cd8d8f775bcdb6a76a496a3a664caba0b9ed47f9.zip" which was download and copy to the phone before, then select "Mount /system read/write" option.
8. Important! tap and hold on the "Flash ZIP or OTA" step, drag it below the "Wipe" step.
9. Tap EverRoot, select "injec SuperSU" option.
10. Tap Reboot step, make sure select the Preserve recovery option.
Now, double check your FlashFire Actions, it should be the same as the screenshot below.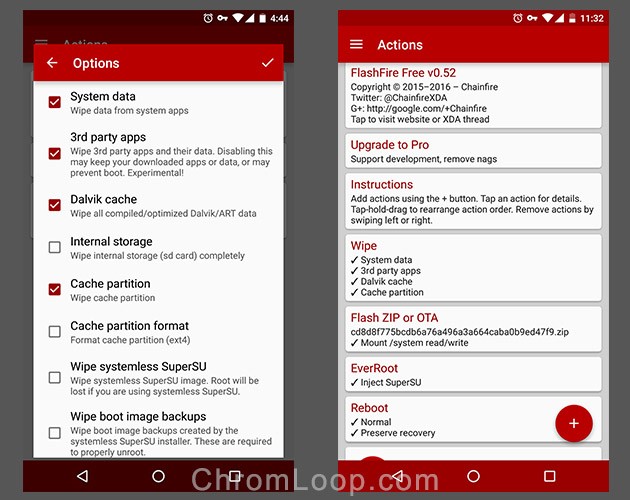 Tap the Flash button, wait for the update process finished. The phone should reboot by itself twice, if everything goes fine, you will get Android 7.0 Nougat welcome screen.
This will not wipe the storage files. If Anything goes wrong, restore the backup with TWRP recovery, check if you have a bad download file.
The last thing, update TWRP recovery with FlashFire if you want. Beware, some old apps might not compatible with Android 7.0 Nougat, so you should keep checking App updates.