Six months ago, I was thinking about buying a web hosting service, which is used for running some small enterprise websites, as most of their customers are from abroad (I am in China), I decided to choose a worldwide data center, I choosed Go Daddy web hosting deluxe plan, consider of the speed, stable, service and hardware configure, also the data center is located in US , fast server connection (a bit slow for my country), supported Microsoft ACCESS database, which is easy to manage, suit for small enterprise website. As Go Daddy official web page only showing the 4G (four generation) hosting plan, not support Microsoft ACCESS database and its data center is located in Asia-Pacific, which is a little slower than the one located in US , You may want to know how to registered the US data center host plan.
Before I tell you how to registered the US data center web hosting plan, I would like to say Go Daddy has quick and good customer service, I have submit serval technology tickets and the engineers would response in a short while, telling me the detail of the issue, problem solved perfectly, but I want to buzz their marketing, that is they send the special offer information at the end of the ticket response email. Well, that is a little Annoying.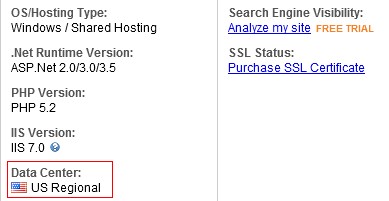 Ok, let's open the Go Daddy with your web browser, you should see the Hosting in the menu, move your mouse on it, then click the "web hosting", you should see the page like this: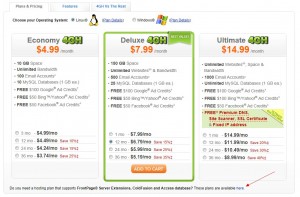 Do not click the "add to cart" button, below the 4G plan, you can see this message:"Do you need a hosting plan that supports FrontPage® Server Extensions, ColdFusion and Access database? These plans are available here.", I draw a red arrow on the picture to point it out. Click the "here" link and you should see this page:


On this page, the web host is the one you are searching, which support Microsoft ACCESS database and located in US data center, you could add it to the cart and finish the order. That is simple, remember the host needs to set up when you first launch the web host manager.
If you are going to build a personal blog, I recommend the ECONOMY PLAN, cheap and easy to use, you can install the WordPress in the host control panel. If you are manage serval website , the Deluxe PLAN is suit for you, not so expensive. Everyone should own a personal website, now let's start the trip with Go Daddy