The Android fans are having the Android 4.3 roll out party on the XDA forum, hundreds of thread posts are made in every minutes, everything is going well and we get a Android 4.3 flashable rooted zip and the .83 baseband image, we are still missing the bootloader, but still it has been tested and all things works. If you are wondering is it worth update your Nexus 4 to Android 4.3 by now, you should see the list of changes in Android 4.3.
Collection of Android 4.3 changelog so far:
1. Touchscreen driver was updated to E028 version, which is making a big improvement of the experience touching the screen, if you usually use the visual keyboard a lot, you should happy with this update, BTW, Google keyboard now have emoji groups.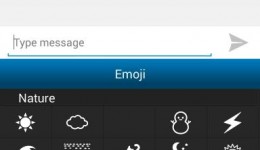 2. OpenGL driver was updated, due to some games FPS is huge improved. Screen flicking issue in some apps was gone too. Furthermore, the display screen color seems much more vivid.
3. Bluetooth low energy was supported, also the Google music play now streams MP3 tags to car audio and other handsets.
4. The low level of Audio module was updated again, in Android 4.3 the audio latency is 40ms, which is 86ms in Android 4.2.2.
5. Autocomplete function in the dialer. Just the same as the function in CyanogenMod named "T9-dialer".
6. Series Google apps updated: Google Keyboard, Google Now, Google Keep, Google Play store (v4.2.3).
7. Stock font (Roboto) was updated, optimized for big screens and high DPI devices.
8. New feature in Camera: Volume key shutter, New shutting animation, countdown timer, read more in our Android 4.3 Camera Review.
9. New feature in Gallery: Improved photo editor, read more in our Android 4.3 Gallery Editor Review.
Bonus: Now the Google Play Books is available in The Netherlands.
10. WiFi function changes, on Android 4.3, WiFi model will keep working at background for the location service, you can go to advance setting to disable this feature.
Bugs in Android 4.3: 1. Some apps are showing incompatible with the Android system when you launch them.(that is common to new system)
2. Camera autofocus get freezed in some situations, we don't know if the new .83 baseband will fix it.
3. Without a full wipe you may have some unusual issues, like the phone dialer FC, lose calling voice, etc.
4. Some said, Apex launcher keep force closing.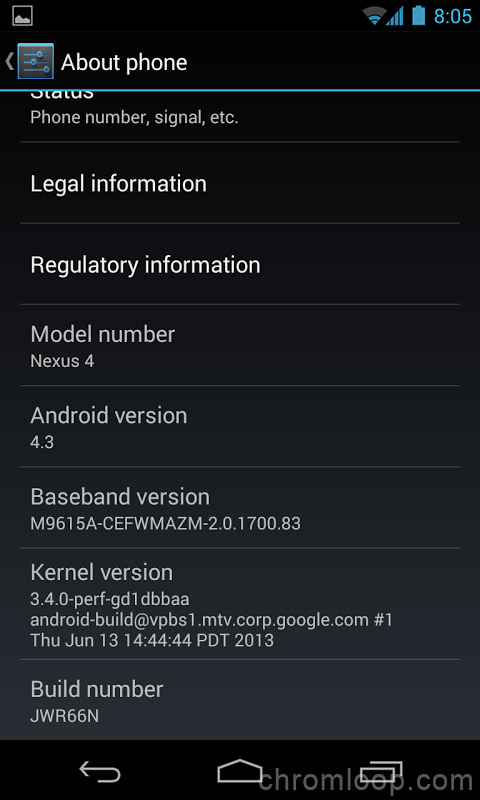 How to update Android 4.3 on Nexus 4 (mako)
OK, if you are ready to update Android 4.3 on Nexus 4, here comes download sources and update advices.
There are two versions of the Android 4.3 Nexus 4(mako) flashable package, one is the original odexed one(340MB), the other one is deodexed(410MB), both of them are rooted, Here is the download link, both directly and P2P sources.
Mako-rooted-signed-zip download link: http://forum.xda-developers.com/devdb/project/dl/?id=115
Mako-deodexed-rooted-signed download link: http://forum.xda-developers.com/devdb/project/dl/?id=116
It is easy to flash the Android 4.3 system with CWM or TWRP recovery, but there are some advices you should read before you plug in the cable.
1. Backup everything as you need to do a full wipe reset the phone, or you want to roll back to current system. (Do NOT do factory reset in settings, do it in Recovery)
2. If you are going to use the CWM recovery, root permission may be failed after reboot the phone. if that happen, flash this package provided by chainfire in CWM recovery, then choose "fix permission", and when you are going to restart the phone, CWM recovery will alert you that it will lose root should it be fixed? then choose NO.
3. Titanium Backup will have errors when doing backup and restore, it is the path problem, you can change the original storage path from "/storage/emulated/0" to "/storage/emulated/legacy" in Titanium Backup.
Another Bonus: If you are missing the cLock app in CyanogenMod 10.1(CM10.1) After updating to Android 4.3, here is the APK download thread: http://forum.xda-developers.com/showthread.php?t=2186734
Enjoy the new Android 4.3 on your Nexus 4. BTW, Something new will be announced at next Wednesday…Maybe is the official announce of Android 4.3, but we are already here.