New Camera NX V5.3 is live for download, it is modified base on the latest Google Camera v4.2.032, which was extract from Android 7.1.1 developer preview 2. In this new version I'd like to introduced the Hybrid-Burst mode, which is another exclusive feature for Pixel phones, I also fixed the video frame rate problem which was a side effect of the 240 fps hacks in version V4 for Nexus 5X.
The camcorder in V5.3 will record videos in higher bitrate than stock in 1080p and 720p mode, it goes up form 17Mbit/s to 33Mbit/s in 1080p video, 12Mib/s to 18Mbit/s in 720p video, furthermore, slow-motion video is up from 27Mbit/s to 42Mbit/s, one thing should be noticed is video record in slow-motion mode will only have 5.2Mbit/s on Nexus 5X, I suppose it was limited by the SoC speed. Another new feature is about HDR+ mode selection, now Camera NX will select the HDR+ Auto mode automatically every time you launch it, whatever you have selected HDR+ off or HDR+ On in the previous launch.
HDR+ program version update to 1.0137500691 in Google Camera 4.2.032, the previous version is 1.0137460761.
If you have missed what is new in Google Camera v4.2.032, aka the white balance options, you can check my previous post.
What is Hybrid Burst mode?
Hybrid Burst is a new burst mode which only present on Pixel phones, it provide smart burst results while keep all the burst photos, with this feature you can have more photos to choose.
I suggest Nexus 5X users disable the auto-generate creations option in settings, it will reduce the oom situation while using burst mode.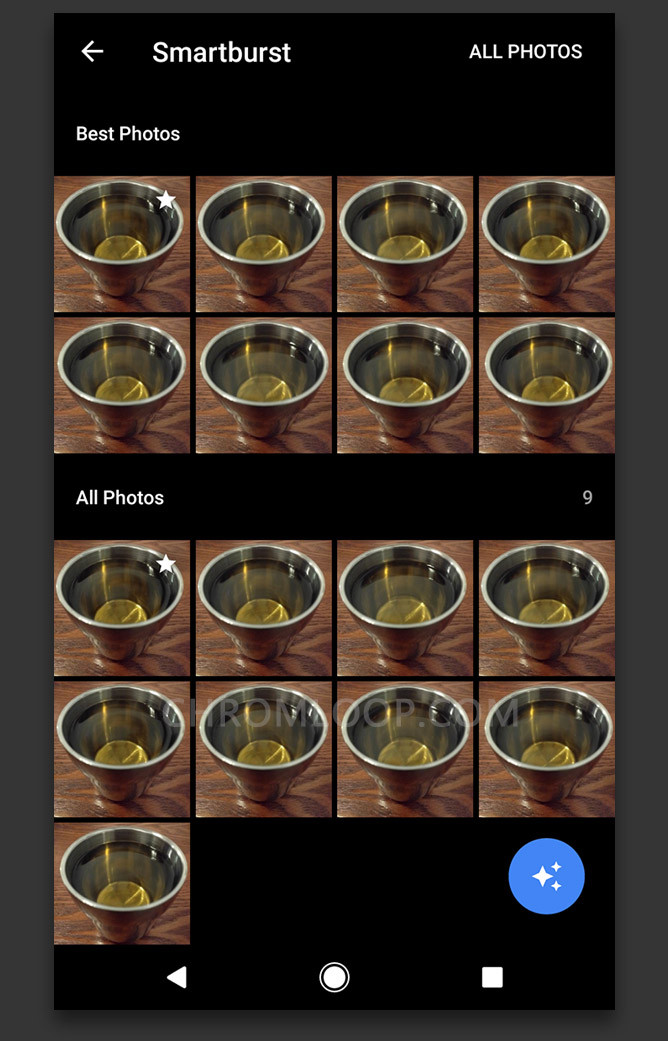 Hybrid Burst mode on Nexus 5X.
I also make a screen record video to show the Hybrid Burst mode.
Camera NX (Google Camera v4.2.032) Features list:
Camera NX don't require root permission and won't replace your stock camera.
1. ZSL (zero shooting lag) HDR+ photo in HDR+ Auto mode for Nexus 5X & Nexus 6P.
2. ZSL photo in HDR+ off mode for Nexus 5X. (Nexus 6P already have it in stock camera)
3. 240 FPS slow-motion for Nexus 5X.
4. Hybrid Burst mode for Nexus 5X & Nexus 6P.
5. Higher Video recording bitrate.
6. Video stabilization (Nexus 5X users need modify build.prop file by yourself)
Update 11/29, version 5.3
1. Try to fix the burst mode crash on Nexus 5X, but you should know we have limited Ram, so don't keep pressing on the capture button too long.
2. Provide a updated version for Android 7.0 users, same features but only without ZSLHDR+, I use Nexus 6P HDR+ profile for Nexus 5X, avoid black screen bug on 7.0 Roms, you will still get ZSL with normal photo shooting (HDR+ off).
3. Fix a video bitrate bug on Nexus 6P using 240 FPS.
Update 11/30, v5.3.1 only for No ZSL version.
Disable the automatically HDR+ mode and video stabilization selection.
PS. Android 7.1 users can choose the NO ZSL version if you are enjoy photo burst more than the ZSL shooting, as the NO ZSL version is more stable for photo burst.
How to fix the black viewer issue on some 7.1 custom roms Nexus 5X / 6P . (If you are using the latest OpenGapps, it contain this fixs.) .
Flashable zip Packages in TWRP recovery: (Do system back up first!)
For Nexus 6P: CamNX-Fix4Nitrogen
For Nexus 5X: CameraNX-N5X-fix
Download link:
Camera NX V5.3 for Android 7.1+ (Google Drive) | AFH mirror
Camera NX NO ZSL V5.3.1 for Android 7.0 (Google Drive) | AFH mirror