Here is the Pixel mod for Nexus 5X created by myself, it will provide you a full Pixel navigation bar experience (white buttons, home button animation) in any language, no need to enable Google Assistant. Other features please check the list below.
Pixel Mod for Nexus 5X with Android 7.1.1 Developer Preview 2 features:
1. System wide blue theme, same look as Pixel's. ( Framework-res.apk mod ).
2. Add Pixel Launcher latest version 7.1.1-3359438.
3. Add Pixel built-in wallpaper, New elements and Sky high.
4. Add Google Wallpaper picker.
5. Replace boot animation with Pixel animation.
6. Enable round icon support, night light mode, a "Fake" swipe to show notification, enable camera app pinned.
7. Use Pixel white buttons and home button animation.
8. And NO, the swipe to show notification WON'T work.
Nothing less nothing more. FYI, Google fixed the automatic active function of night light mode in DP 2, and the annoying QMUX bug was fixed too, in the developer preview 1, lots of this error logs spam in the logcat .
11-11 16:14:16.442 E/QC-QMI (495): linux_qmi_qmux_io_wake_lock: Err in writing wakelock=qmuxd_port_wl_0, error [1:Operation not permitted]

11-11 16:14:16.442 E/QC-QMI (495): linux_qmi_qmux_io_wake_unlock: Err in writing wakelock=qmuxd_port_wl_0, error [1:Operation not permitted]
In DP2 it has been fixed.
Let's see some screenshots: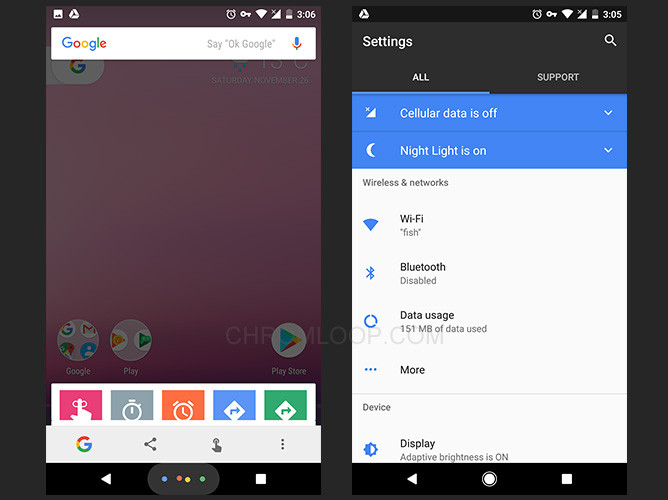 How to install:
Better to make a Backup first, I have tested it on Nexus 5X running Android 7.1.1 DP 2 by myself, DO NOT try it on any other devices or Roms.
Installation: Just download the flashable package, install through TWRP, all is done.
How to restore:
Download and Flash the Back-to-Stock zip package to restore the stock view.
If you still seeing round icons after flash the Back-to-Stock package, go to settings -> apps, choose "show system" on 3 dots menu, find the Google App, tap on storage, then tap manage space, tap the clear launcher data, all icons will refresh.
As I didn't provide a restore zip, you can dirty flash the system images , no need to wipe data. Or just restore a backup.
Download link:
Pixel-Mod-7.1.1-DP2-Chromloop.zip
BacktoStock-7.1.1-DP2-Chromloop.zip

Q&A
Q: Why I can not see any round icons?
A: Try clear the launcher data via manage Google app's space management, Goto Settings, Apps, Google app, storage, manage space, clear launcher data.
I will provide a guide of the modification of framework-res.apk, it is much easier than modifying SystemUI.apk for home button animation.