I just get a Motorola Xoom with Wifi at last week, which is my first Android Tablet. 🙂 it cost me RMB ¥2599, if converted into U.S. dollars is US$412, so it is much lower than the original price when Motorola Xoom released to the market, I think this is because the Xoom 2, aka DROID XYBOARD, is going to launch in China at this month.
The Motorola's next generation tablet, Droid Xyboard's price is $599 (with WiFi). As DroidXyboard equipped the OMAP 4430 Dual Core 1.2GHz processor, 1 GB RAM, while Xoom equipped the Tegra2 Dual Core 1.0GHz processor, 1 GB RAM some people think that, two generations of Motorola tablet's performance gap is not obvious. I pay more attention to performance, and Xoom is cost-effective, so I prefer to buy it. I think the price of Droid Xyboard will higher than RMB ¥3000 when it is released in my country. Perhaps you will not believe, A year ago Xoom's price was RMB ¥4999, and now it is RMB ¥2599.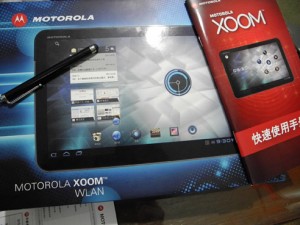 One day after I get my Motorola Xoom, I unlock the bootloader, flash the CWM recovery and install the Android 4.0 ICS custom rom, I'm looking forward to the fully functional CM9 for Xoom.
One question, can I install the ARM version of Windows 8 in Motorola Xoom?