We all heard about the disappointed the Apple conference "Let's talk iPhone", Just leave it alone, Samsung just release a super amazing video, announced that Samsung and Google's 'Unpacked' event scheduled for October 11 in San Diego, showed to us a beautiful and mystery curve of side face of the next Google phone, the Nexus Prime.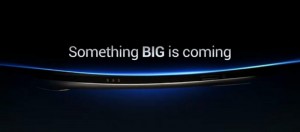 Lots of information point to that next version of Android the "Ice Cream Sandwich" also coming with the Google-Samsung Nexus Prime on October 11, here is a photo of Nexus Prime which was leaked recently, showing some important screen details, in this picture, we know about the Nexus Prime equipped a 4.6 inch screen, 720p display, 320 dpi, the resolution is 1280*720, this digital screen should be the Samsung Super AmoLED Plus. Don't worried, the screen surface is curved but the digital screen is still flat, it does not making the picture of the screen weird.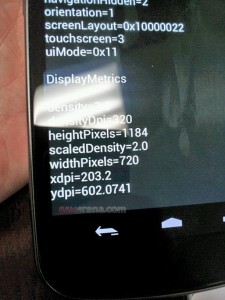 We can see there is no physical buttons, just the visual "back", "home" and another unknown buttons, the button style is taken from the Honeycomb navigation bar. So there is all the information we can confirm with the leak photo, but the conference will come in a week, can't wait until the date.
Update: gsmarena just post more information about the Nexus Prime, the phone will equipped a 1.2GHz OMAP 4460 dual-core Cortex A9 processor, made by the Texas Instruments, it is not the rumored Exynos chipset with two cores clocked at 1.5GHz each. Well about the sensational 4.65-inch HD screen, it truly be the SuperAMOLED HD screen, the surface is not so curved which is showed in the previous video, it is just like the Nexus S. Other hardware parameter: 1GB of RAM, 32GB internal memory, Wireless N and a 1,750 mAh battery. They said the main camera is only 5M-pixel, not 8M-pixel, but it is not for sure.
Here is the New picture: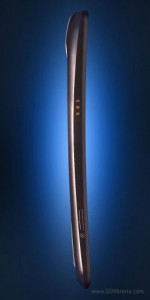 via gsmarena.com
Update: the Gsmarena.com post a new specific hardware detail about the Nexus Prime, totally different, now according to the source this new Google phone processor will be a Samsung dual-core processor clocked at 1.5GHz, with a dual-core GPU inside, and this GPU also pack in the iPad 2 and iPhone 4S. The 8-megapixel camera is back, with full 1080p HD video-shooting supported. We will get bigger battery, expect a 2050mAh, which can hold the phone working several days. About the signal, LTE-enabled and it would probably boast a dual-mode GSM/CDMA radio supported, which means this is a worldwide Android phone.
via gsmarena.com