[APK] Free Download Talking Santa meets Ginger Cat, Happy Androidmas

,
Hi everyone, as Christmas Day is coming this year, more and more Android apps and games appeared, most of them is coming for the Christmas, they are all funny and interesting, now let's download some free "Androidmas" games for this Christmas season.
Fist one will be the "Talking Santa meets Ginger", created by Outfit 7, the author of the "Talking tom", and "Talking Santa meets Ginger" is also one of the "Talking" series games, but there are two roles in this game, the Santa and the Ginger cat, who is Talking Tom's mischievous little nephew. What is naughty ginger cat going to play with Santa in the first time he meet the Santa? and what features new in this game?

let me tell you that.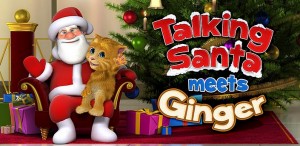 Here is the story:
Dear old Talking Santa thinks he's just getting a regular kid to deal with but Ginger has more than one surprise up his sleeve. Once Ginger is in Santa's lap, he'll tickle and kick him, pull off his beard, put a finger up his nose, set his hat on fire, give him an exploding gift and yes… much more.
HOW TO PLAY
Talk to Santa and he will repeat your words to Ginger.
Poke, slap or tickle Santa to see his hilarious reactions.
Poke or tickle Ginger and see what happens.
Poke the toy train and make it go off tracks.
Ring the bell on the Christmas tree by shaking your device or by poking the bell.
Press the train whistle button to hear the whistle blow.
Press the cat paw button to see Ginger annoy Santa in different ways.
Press the fire button and see how Ginger lights Santa's hat on fire.
Press the gift button and Ginger will give Santa a ticking present.
*Send customized Christmas cards (email, MMS or Facebook) by pressing the card button.
*Record videos and upload them to YouTube & Facebook or send them by email or MMS.
In Talking Santa meets Ginger game, a big feature is you can send personalized cards to your friends and family, you can input the texts, sharing it via Facebook, bluetooth, MMS or Emails and other social tools. but in the free version it only have one default Christmas card, but when you buy the full version, there are more than 200 cards you can pick up.
Ps. the game will ask you to download 4-43MB graphic data via network at the first running, on My X8, I need to download 7MB data, takes me 1 minute.

and some of the features need to payout, so watch your kids when they play with this game, or you will spend some money

Download Link page: Talking Santa meets Ginger Cat