Those points is summarize some Droid 3 owners impression, Droid 3 is selling in Verzion store now, before buying the phone you should read the review.
1.Larger 4 inches screen with qHD resolution, but pixelated.
it's big improve with the Droid 3 screen size, and the resolution is reached 960*540 px, but it is pixelated compare to the Milestone 3.7 inches screen, Droid 3 screen use the PenTile screen technology, it seems unwelcome for the bad display effect, if you are going to buy one, you should consider of it.

2.Running Android 2.3.4, without root, many moto crapware pre-installed
It is much more fast than the Droid 1, the 1 ghz dual core CPU is very impressive. but the Moto software is continue suck on Droid 3. System start and reboot very fast (Android 2.3 optimization). Total 16gb free space, system and application have taken 4gb, no additional SD card needed.
3.Very nice 5 lines keyboard, perfect camera, sensitive touch.
Droid 3 use 5 lives keyboard than separate the numbers on the first line of the keyboard, the key is very responsive. The Gtalk can't use the front camera, pictures taken from back camera is nice. Touch screen is very sensitive, I think the dual core CPU helps a lot here, same problem like Mileston 1 and Droid 1, can't use one hand to operate the phone when place Droid 3 on a desktop.
4.The ram is 512m, so it's limited.
We all suffer with the 256m ram Milestone without swap feature, but the Droid 1 without encrypted bootloader is much better. Droid 3 should designed with 1gb ram inside, compare to the other new device which has dual core CPU and qHD screen.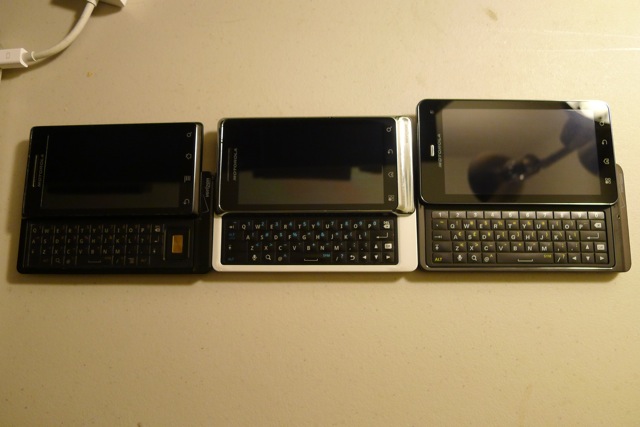 from:
http://luigimontanez.com/2011/droid-3-review/
http://androidforums.com/motorola-droid-3/371621-droid-3-first-impressions.html