The Motorola Domino+ is rolling out this month in China, it has a brand new style, round body, female welcome looks, totally different with the "Droid" style, if the "Droid" is made for man, then the Domino+ is made for woman, it looks like a beautiful and fashion girl in the mobile phone world.
Motorola Domino+ is specifically sell in China, like other Motorola special design phones which was only sold in the specific countries or areas, like Motorola Z8, it was only released in the Europe and US, I have to bought it through online trading website. I will definitely buy this cutey Domino+ for my girl if it was released in a year ago. Any way, it looks so sweet.
Motorola Domino+ will have two color style for customers, black and white. The display screen size is 3.5 inch, QUALCOMM MSM7227 800MHz processor, 512MB of RAM, 5 Mega Pixel Auto focus camera with LED flash, Android 2.3.4, good news, is it a hardware keyboard in the picture? bad news, awful Motoblur appears again. The phone will be sell in a decent price, about $340 off-contract in China.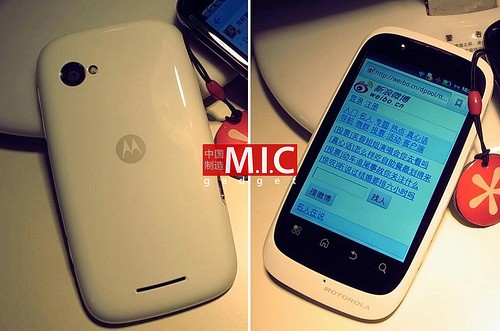 It is surprise to see Domino+ has 512MB RAM but only comes with MSM7227 800MHz processor, though the Droid 3 has the same 512MB RAM, Maybe Motorola is changing their typically phone design thinking.