Here is a working method for those Xperia S users who having the trouble that walkman does not work after updating to the official Android 4.1.2 system, which is released by Sony within these days, system build number is 6.2.B.0.200.
Sony has finally released Android 4.1.2 (Jellybean) firmware update for Xperia S (Lt26i), and this week the Hong Kong customer gets the OTA system update notification, but after they updated their Xperia S firmware, some of them have found out that the walkman did not work, when tap on the icon it just flashed on the screen then forced closed.
In such situation, normally we can do a factory reset, but If you don't want to losing phone custom setting and other things, there are a simple way to fix this forced closed problem.
1. open system settings, go to applications.
2. in the All applications label, find the Walkman app.
3. tap on it for more information, you will see an "uninstall update" button, tap on it, choose yes in the prompt box, and done.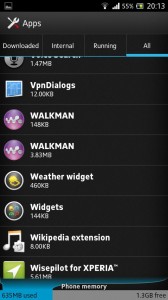 Next time we will introduced OpenSEMC the Android 4.2.2 custom rom for Xperia S.