Android Devices are getting more and more popular in modern world, before Wi-Fi technology invented, we use the USB cable for transferring files between mobile device and PC, and with Wi-Fi network, now we can transfer files to/from your Android device without USB cable.
We can use Wi-Fi network to visit Internet, view web pages, download things on Android devices, and with this small application: the FTPServer, we can transfer files between your Android phones and your PCs. FTPServer is an Android application that can make an Android device become a FTP Server, you can transfer files to/from android device by any FTP client.
1.FTP account settings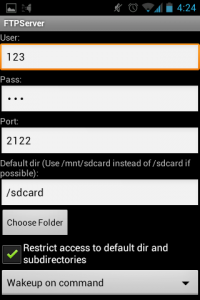 The above picture is the screen of FTPServer when the first time you open it, you need to setup the FTP username, password, you can enter any words which is easy to remember, it will be used for authentication when you connecting to this mobile device. The next thing is connection port, you can just set the same port as my setting. Now you need to setup the default file location after building the FTP connection. let's set "/sdcard" for located your SD card.
2.FTP network settings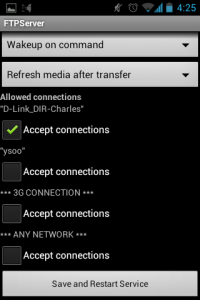 The above picture shows the other settings of FTP Server. the default value is good for the first two options, the first one can wake up this device if necessary, the second one can let the system rebuild the media database, that is useful when you are going to transfer some media files to your device.
In FTP Server you can define which Wi-Fi network can access your device, or you can just active the "accept any network connection" options as you prefer.
After finishing setup all the options, tap the "save and restart service" button. FTP Server will running if everything goes well. Sometimes you maybe forget to open Wi-Fi connection, it's fine, just stop the FTP service, connect to Wi-Fi and start FTP service.
Screen of succeed in running FTP service.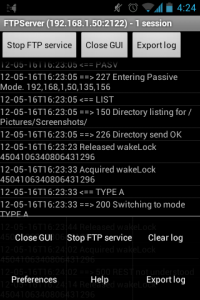 Tips: You can open the setting menu by tab the menu key.
How to connect to Ftp Server with a computer? that is easy, just open your computer explorer, enter ftp address: "ftp://" + the username + "@" + the string of numbers in the brackets, for example, my username is "123″, my address is "ftp://[email protected]:2122/". you will be asked for the FTP password after press enter key.


You can do the common file operations after connecting to your Android device, like copy and paste, it is so easy and convenient, isn't it?
Tips: remember to stop FTP service and close it when you finish doing your job, or your phone won't go to sleep mode, battery will drain very fast.
Download FTP Server on Google Play